PixelRuler is a free only for private use software for measuring horizontal and vertical distances on the entire screen, and is ideal for web designers and graphic artists.

For a commercial use the price for one license (1 workstation) is only 5.00€*.
You will get a volume discount if you purchase multiple licenses.

Features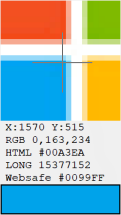 Resizable Zoom window.
Color Picker: color value determination (for HTML, RGB, Long, TColor, VB, Websafe).
Distance measurement manual and automatic.
Multi-monitor support incl. 4K/UHD monitor support.
Monitor calibration for different units of length in mm, cm, inches, etc.
Conversion scaling <> 100% / DPI <> 96.
Adjustable ruler length and width.
Horizontal and vertical alignment on the whole screen and virtual desktop (Multi-monitor).
Settings: docking function, docking range, ruler- and font color, font size, transparency, zoom, etc.
Ruler can be used as a reading help, by adjusting background and font color and deactivating the coordinate display.
Operation systems: Windows 2000, 2003, 2008, XP, Vista, Windows 7, Windows 8.x, Windows 10.
Setup-Routine for installation/deinstallation.
Bilingual menu (german, english).
Help file.